Dentist near Cheadle Hulme
Cheadle Hulme Dentist Charisma Clinic is proud to be a highly rated family dentist offering top quality private dental care at affordable prices.
If you're looking for trusted and highly experienced dentist in Cheadle Hulme, then Charisma Clinic based in Hazel Grove can help. We are approximately 15-20 minutes by car from Cheadle Hulme. The dental practice is situated on Chepstow Drive on the corner of Highfield Road in Torkington, Hazel Grove.

Hazel Grove train station is approximately one mile away on foot and just a few minutes by taxi. If you are travelling by car, there are free car parking spaces outside the dental surgery with spaces always available. Use the form on the right to get directions from your front door to the practice.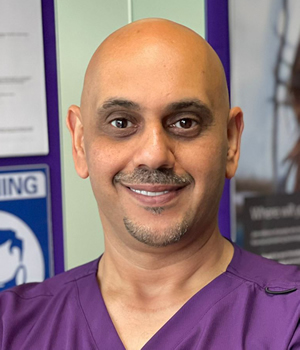 Hi, let me take this opportunity to introduce myself and provide you with some information about my professional background. My name is Talal and I graduated in General dentistry from Safarik University in Slovakia in 2002. I started my career as a dentist working at the Louis Pasteur Faculty Hospital where I gained extensive experience in restorative and aesthetic dentistry.
My interest in oral surgery and associated academic work grew whilst working with eminent dentists and oral surgeons at the faculty teaching hospital. I completed my PhD degree in Precancerous Diseases in Oral Cavity in 2010.
I continue to keep my knowledge and skills up to date by working alongside highly experienced and skilful professionals and attending courses and workshops to familiarise myself with latest procedures and techniques in dentistry and aesthetic procedures.
It is my goal and vision to provide you with a confident smile. Please feel free to discuss your concerns and we could have a discussion regarding your concerns and available treatment options in a relaxed and comfortable environment. Looking forward to see you soon.
Teeth Straightening - Cheadle Hulme
Do you feel self conscious about your smile? At Charisma Clinic we can help straighten crooked teeth or remove small gaps in your smile with virtually invisible braces. There are now a number of teeth straightening systems available which can help you achieve that wonderful smile without having to have traditional braces fitted.
For more information on Teeth Straightening call us on 0161 483 5433 or click below.
Teeth Whitening - Cheadle Hulme
Zoom teeth whitening is a popular cosmetic dental treatment which is highly effective and can dramatically change the appearance of your smile. Zoom whitening is safe and can brighten your teeth as much as eight shades lighter. This product and procedure is carried out in our surgery at Charisma Clinic and the results are immediate.
For more information on Teeth Whitening call us on 0161 483 5433 or click below.
Wrinkle treatment - Cheadle Hulme
Treatments for wrinkle reduction are available for both men and women and help to smooth out creases in the skin such as frown lines and crow's feet. The product used is Botulinum Toxin and it has a high safety record if administered properly. The effects last for approximately three to four months and can be visible in just a few days. At Charisma Clinic we can also provide dermal Fillers to reduce lines around the mouth and lips.
For more information on Wrinkle treatment call us on 0161 483 5433 or click below.
Other Treatments
At Charisma Clinic, looking after our patient's dental health is paramount. Our dentistry includes a comprehensive service which involves routine check-ups right through to creating the smile of your dreams.
Book an appointment with us
You can simply call us on 0161 483 5433 or request an appointment via email by clicking the button below.