Our hugely experienced dentists have over 10 years dental implant experience and have placed hundreds of dental implants, with an impressive 99% success rate.
All our dentists are registered with the General Dental Council (GDC) and our highly rated dental clinic is regulated and regularly monitored by the Care Quality Commission (CQC) so you can rest assured you're in safe hands here at Charisma Clinic.
The first thing that people usually notice about others is their beautiful smile, as it lights up their face, enhances their beauty and shows the world their happiness from within. A smile is so much more than the movement of muscles - it expresses the best version of ourselves - one filled with humour, laughter and enjoyment.
To us, there's nothing better than a big toothy grin, but for others, this is a dreaded experience, especially if they have a tooth or two missing. Don't let your insecurities stop you from smiling.
With dental implants from Charisma Clinic, you can have a full, natural-looking smile that will boost your confidence, opening many doors in the process.
Meet our dental implant surgeon Ahmed Tahboub, BDS (GDC No. 244154)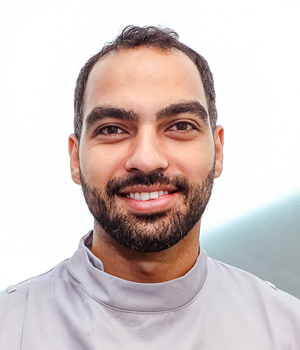 After completing my dental degree at The University of Manchester in 2013, I worked at Manchester dental hospital and the Manchester Royal Infirmary. This allowed me to further my training in complex restorative dentistry and oral-maxillofacial surgery.
During this time, I was involved in surgical and dental reconstructions for patients who suffered from trauma or oral cancer.
This is where I discovered my passion for dental implants and restorative dentistry.
I then followed to complete a postgraduate certificate in restorative dentistry and a certificate in Dental Implants. I furthered this by completing the exam for the membership of the Royal College of Surgeons (MJDF).
The attention to detail and perfectionism earns the confidence of our patients to deliver the best possible results. My ability to put you at ease and make your treatment comfortable makes me popular amongst nervous patients.
At Charisma, I offer simple and complex implant surgery from simple single implants to full mouth rehabilitation using dental implants. I also offer intravenous sedation for nervous patients.
Am I suitable for dental implants?
We always determine patient suitability during your thorough consultation, where we delve into your medical history, your lifestyle and take x-rays or a CT scan of your mouth, and in particular, the treatment area.
You may be unsuitable for dental implants if you:
Are a heavy smoker.
Have had radiotherapy in your jaw area.
Have diabetes.
Have gum disease.
Dental implants are also unsuitable for children, and young people under the age of 18 because the underlying bones are still developing.
Should you be unsuitable for dental implants, we will recommend alternative treatments that may prove a better solution, or provide you with healthcare advice that will make you a better candidate for the procedure.
Affordable dental implant prices in Cheshire
To keep this popular treatment as affordable as possible, we now have some of the most competitive dental implant prices in Stockport, Manchester and Cheshire.
Our implants start from £3,000 and include free 12 months aftercare, 5 year warranty and the option of 24 months 0% Interest free credit.
| Implant treatment | Price |
| --- | --- |
| Consultation with specialist inc exam, small x-rays and discuss treatment options | £180 |
| Implants (Discounted for 1 month - normally £3,000) | £1,600 |
| Bone graft | £750 |
| Upper implant retained denture | £9,000 |
| Lower implant retained denture (2 x implants) | £7,000 |
| Lower implant retained denture (4 x implants) | £9,000 |
| Full arch fixed bridge (per jaw) | £11,995 |
| Full arch fixed bridge immediate loading (per jaw) | £13,995 |
| Implant retained bridge (3 teeth on 2 implants) | £4,495 |
| Teeth in a day (Same day teeth) incl. free 5 year warranty, 12 month aftercare, CT Scan,full mouth check up and sedation if required | £15,000 |

To see all our latest prices and special implant offers please see our fees page.
Request a call back