Meet our expert Stockport dental team
All our dentists are registered with the General Dental Council (GDC) and our practice is regulated and regularly monitored by the Care Quality Commission (CQC), so you can rest assured you're in safe hands with our dedicated and highly experienced team.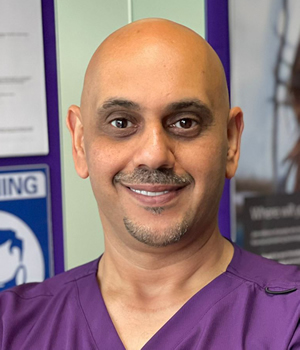 Dr Talal Khalil, PhD Principal
Hi, my name is Talal. Let me take this opportunity to introduce myself and provide you with some information about my professional background. I graduated in general dentistry from Safarik University in Slovakia in 2002. I started my career as a dentist working at the Louis Pasteur Faculty Hospital where I gained extensive experience in restorative and aesthetic dentistry.
My interest in oral surgery and associated academic work grew whilst working with eminent dentists and oral surgeons at the faculty teaching hospital. I completed my PhD degree in Precancerous Diseases in Oral Cavity in 2010.
I keep my knowledge and skills up to date by working alongside highly experienced and skilful professionals and attending courses and workshops to familiarise myself with the latest procedures and techniques in dentistry and aesthetic procedures.
I have huge experience in treating children. Over the years, I have learnt techniques and communication skills that allowed me to create a relaxed, comfortable environment to put younger children and anxious patients at ease whilst undergoing dental assessments and procedures.
Over the last 10 years, I have also gained considerable dental implant treatment experience and have an impressive 99% success rate, having helped hundreds of dental implant patients.
I would encourage you to ask for advice on facial aesthetic procedures freely. Aside from routine aesthetic procedures, I also offer root canal treatment, Hollywood smile, white filling, non surgical anti-wrinkle injections and dermal fillers.
It is my goal and vision to provide you with a confident smile.
Please feel free to discuss your concerns and available treatment options in a relaxed and comfortable environment.
I'm looking forward to seeing you soon.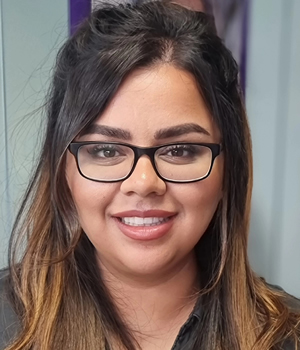 Khadija Adam - Managing Director
NVQ L3 Dental Nursing & VRQ L3 Dental Nursing City & Guilds
I began my journey in the dental field fresh out of college. Starting as a trainee dental nurse, qualifying and aiming to progress further. 2 years into nursing I took on the role of a lead nurse and then shortly after, started my journey into management.
The idea of growth has always appealed to me. Whether it be personal or professional. At Charisma, I play a major role in this. I focus on a number of areas, from introducing more treatments to suit your needs, to creating more Charisma Clinic's so you can all experience our unique and tailored patient journey.
My key focus is ensuring you are left satisfied with your treatment and overall experience.
I have always taken a keen interest in helping nervous and anxious patients. Knowing they have overcome a hurdle, fear or phobia is always amazing however, knowing I've played a role in this is definitely rewarding.
I strive off personal patient reviews, the aftermath of long treatments, the positive change in patients throughout their journeys and the relationships we build. I can whole heartedly say you come in as patients but leave as family.
Working at a place and with people who share the same morals and views is amazing! We at Charisma can't wait to bring so much more for you!
We asked Khadija: if you could have one season all year around what would it be?
Khadija said: "Autumn! I love the colours and crisp fresh feeling. It also means I can wear cosy jumpers all year round- Yay!"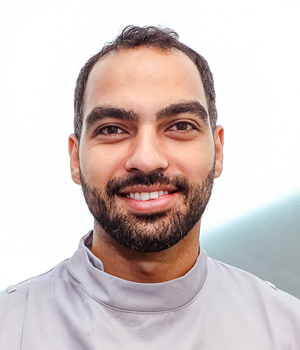 Dr Ahmed Tahboub - Implant Surgeon
BDS University of Manchester 2013
After completing my dental degree at The University of Manchester, I worked at Manchester dental hospital and the Manchester Royal Infirmary. This experience allowed me to further my training in complex restorative dentistry and oral-maxillofacial surgery. During this time, I was involved in surgical and dental reconstructions for patients who suffered from trauma or oral cancer. This is where I discovered my passion for dental implants and restorative dentistry.
I then followed to complete a postgraduate certificate in restorative dentistry and a certificate in Dental Implants. I furthered this by completing the exam for the membership of the Royal College of Surgeons (MJDF).
The attention to detail and perfectionism earn the confidence of our patients to deliver the best possible results. My ability to put you at ease and make your treatment comfortable makes me popular amongst nervous patients.
At Charisma, I offer simple and complex implant surgery from single implants to full mouth rehabilitation / same day teeth using dental implants. I also offer intravenous sedation for nervous patients.
When I'm not working, I enjoy spending time with my young children. I also play football and tennis.
If you have one or multiple teeth missing, come and discuss your options with me!
We asked Ahmed: if you could be anything other than a dentist, what would it be and why?
Ahmed said: "A pilot, so I travel the world!""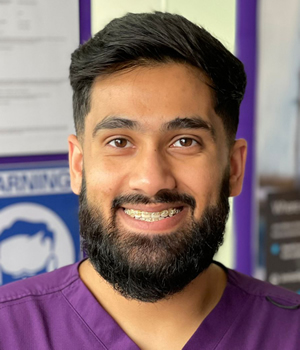 Dr Amir Ahmad - General dentist
BDS University of Liverpool 2018
I graduated with a BDS from the University of Liverpool and successfully completed my Foundation Training in Stockport. As a local boy, I chose to continue working in the South Manchester area. During my training, I was fortunate to win awards for restorative cases.
I am passionate about delivering high quality dental treatment whilst maintaining patient relaxation and comfort. I have completed numerous postgraduate courses to provide my patients with the treatment they require.
I have completed courses in aligner dentistry and teeth straightening, composite bonding, management of worn-down teeth and dentures. I am also undertaking a Postgraduate Diploma in Restorative and Aesthetic dentistry in 2021.
I'm always taken a keen interest in treating nervous and anxious patients, helping them build the confidence to come to a dental practice and complete treatments comfortably.
Outside of work, I enjoy playing and watching sports, eating great food, gardening and spending time with my family and friends.
We asked Amir: if there was one country you could relocate to, which country would it be and why?
Amir said: "Bosnia! Sun and good food, what more do you need?!""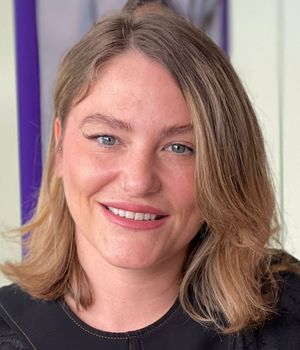 Danielle Demain - Practice Manager
Hi, I'm Danielle and I'm the Practice Manager at the amazing Charisma Clinic. I joined the Charisma in August 2021.
I come from a Dental background where I was a nurse and then progressed into being a manager. Throughout my time in the industry, I have gained tons of experience working in a variety of NHS, private, orthodontic and Implant practices. I thoroughly enjoy the compliance and team management side of my job! This allows me to focus on making sure you are being looked after, are being kept safe and being treated with utmost care!
Since joining Charisma Clinic, I have thoroughly enjoyed getting to know the patients and leading the team to provide a seamless patient journey. I feel very grateful to work with such an experienced and caring dental team and thoroughly enjoy my role as a Practice Manager here.
Outside of work I love to spend time socialising with friends and family, travelling abroad and going on idyllic walks with her Whippet, Finder. I have also just found a new love for plants!
We asked Danielle, with her new profound love for plants, if she could be one, which one would she be and why?
Danielle said: A snake plant as its useful and hard to kill ha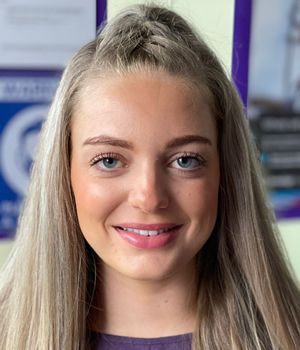 Jessica Thomas - Dental Nurse
I have been nursing now for 3 years, and love it more everyday. I started out at a NHS dental practice, but wanted to develop myself so chose to progress into the private sector. I now specialise in implant dentistry and general nursing with the lovely Charisma team!
The best part of my job is seeing the reaction on patients. Especially those who have had smile makeovers. That first reveal makes all the hard work worth while!
As well as nursing I have a passion for fitness and work part time as a personal trainer, helping people achieve there fitness goals everyday!
I have been training jiu jitsu for a year now which is another hobby of mine! Despite all this fitness i am a massive foodie, always trying the best places to eat!
We asked Jess if she could eat one thing for every meal what would it be?
Jess said: Pasta! Carbs YUM!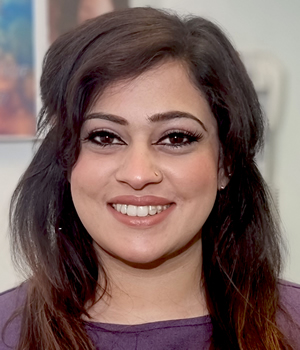 Samara Alyas - Trainee dental nurse
I officially graduated in Bsc(Hons)Dental Technology in 2018 however came to terms with myself that I like to help patients face to face and seeing the positive impact dentistry can have on someone's life to which I decided to start a Level 3 Diploma in Dental Nursing.
I plan to progress further within the practice. My particular interest is in dental implants and sedation.
I enjoy speaking to patients and helping them to be comfortable and at ease.
Outside of work I enjoy going to the cinemas, driving and exploring new places.
The love of my life is my six year old daughter and it seem's she shares the same love as me for dentistry!
We asked Samara if she could move to another country which country would she move to and why?
Samara said: Canada, so I can feel all the seasons
Our latest Charisma Clinic team review via Google
Charisma Clinic Reviewed by gail clarke on "Had the best experience! Great dental team all very welcoming. Will definitely be seeing the charisma team again, a big thank you to Jess for making me feel at ease ☺️"
Rating: 5