Meet our expert Stockport dental team
All our private dentists are registered with the General Dental Council (GDC) and our practice is regulated and regularly monitored by the Care Quality Commission (CQC) so you can rest assured you're in safe hands with our dedicated and highly experienced team.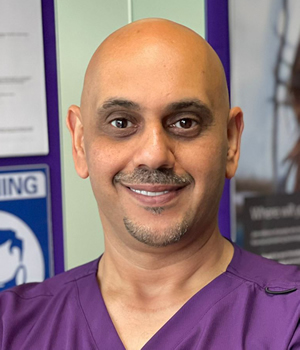 Dr. Talal Khalil, PhD Principal
Hi, let me take this opportunity to introduce myself and provide you with some information about my professional background. My name is Talal and I graduated in general dentistry from Safarik University in Slovakia in 2002. I started my career as a dentist working at the Louis Pasteur Faculty Hospital where I gained extensive experience in restorative and aesthetic dentistry.
My interest in oral surgery and associated academic work grew whilst working with eminent dentists and oral surgeons at the faculty teaching hospital. I completed my PhD degree in Precancerous Diseases in Oral Cavity in 2010.
I continue to keep my knowledge and skills up to date by working alongside highly experienced and skilful professionals and attending courses and workshops to familiarise myself with latest procedures and techniques in dentistry and aesthetic procedures.
I have huge experience in treating children and over the years, I have learnt techniques, communication skills and creating relaxed comfortable environment to put younger children and anxious patients at ease whilst undergoing dental assessments and procedures.
Over the last 10 years I have also gained considerable dental implant treatment experience and have an impressive 99% success rate having helped hundreds of dental implant patients.
I would encourage you to freely ask for advice on facial aesthetic procedures. Beside routine aesthetic procedures, I also offer root canal treatment, Hollywood smile, white filling, non surgical anti-wrinkle injections and dermal fillers.
It is my goal and vision to provide you with a confident smile.
Please feel free to discuss your concerns and available treatment options in a relaxed and comfortable environment.
Looking forward to see you soon.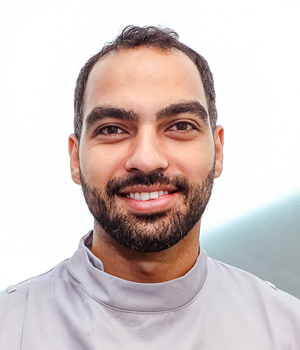 Ahmed Tahboub - Implant Surgeon
BDS University of Manchester 2013
After completing my dental degree at The University of Manchester, I worked at Manchester dental hospital and the Manchester Royal Infirmary. This allowed me to further my training in complex restorative dentistry and oral-maxillofacial surgery.
During this time, I was involved in surgical and dental reconstructions for patients who suffered from trauma or oral cancer. This is where I discovered my passion for dental implants and restorative dentistry.
I then followed to complete a postgraduate certificate in restorative dentistry and a certificate in Dental Implants. I furthered this by completing the exam for the membership of the Royal College of Surgeons (MJDF).
The attention to detail and perfectionism earns the confidence of our patients to deliver the best possible results. My ability to put you at ease and make your treatment comfortable makes me popular amongst nervous patients.
At Charisma, I offer simple and complex implant surgery from simple single implants to full mouth rehabilitation using dental implants. I also offer intravenous sedation for nervous patients.
In my spare time, I enjoy spending time with my young children. I also play football and tennis.
If you have one or multiple teeth missing. Come and discuss your options with me!
We asked Ahmed if he could be anything other than a dentist what would it be and why?
Ahmed said: A pilot, so he can travel the world!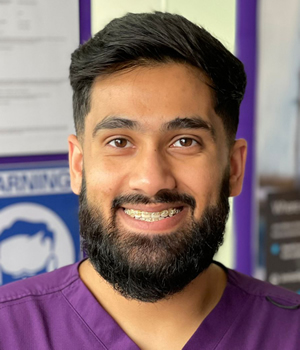 Amir Ahmad - General dentist
BDS University of Liverpool 2018
I graduated with a BDS from the University of Liverpool and successfully completed my Foundation Training in Stockport. As a local boy, I chose to continue working in the South Manchester area.
During my training, I was fortunate to win awards for restorative cases. I am passionate about delivering high quality dental treatment whilst maintaining patient relaxation and comfort.
I have completed numerous postgraduate courses to provide my patients with the treatment they require. I have completed courses in Aligner dentistry and Teeth straightening, Composite bonding, management of worn-down teeth and Dentures.
I am also undertaking a Postgraduate Diploma in Restorative and Aesthetic dentistry in 2021. I have always taken a keen interest in treating nervous and anxious patients, helping them build the confidence to come to a dental practice and complete treatments comfortably.
Outside of work, I enjoy playing and watching sports, eating great food, gardening and spending time with my family and friends.
We asked Amir, if there was one country he could relocate to, which country would it be and why?
Amir said: Bosnia! Sun and good food, what more do you need?!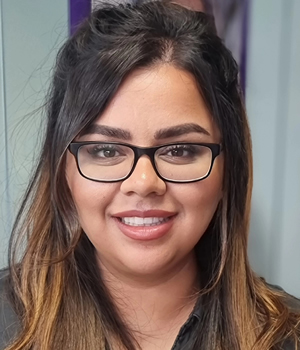 Mrs Khadija Adam - Managing Director
NVQ L3 Dental Nursing & VRQ L3 Dental Nursing City & Guilds
I began my journey in the dental field fresh out of college. Starting as a trainee dental nurse, qualifying and aiming to progress further. 2 years into nursing I took on the role of lead nurse and a year later started my journey into management. Ever since, I have been devoted to providing excellent patient care.
My role entails looking after the day to day running of the practice, supporting the team and aiming for patient satisfaction. I thrive a great deal on ensuring every patient is left smiling.
I have always taken a keen interest in helping nervous and anxious patients. Knowing that they have overcome a hurdle, fear or phobia and I have supported them is always a satisfying feeling.
I'm always available to assist if you need help whether it be advice, support, finance related enquiries or even a conversation to settle your nerves.
We asked Khadija if we could have a season all year around what would it be?
Khadija said: Autumn! I love the colours and crisp fresh feeling. It also means I can wear cosy jumpers all year round- Yay!
Megan Robinson- Dental Nurse
Diploma in Dental Nursing Level 3 QCF City & Guilds 2019
I started as a trainee dental nurse in an NHS practice and very soon realised the Private sector is where my interests lie. I qualified as a Dental Nurse in September 2019 and aimed to broaden my knowledge immediately. I undertook additional tasks and learnt the art of assisting treatments such as composite bonding and all and four implant placements. I was fascinated by the technique and skill used and the attention to detail which was given.
One of my favourite parts of my job is communicating with the patients and listening to their stories. I love how patients change as their treatments progress and how their confidence grows. It's very satisfying knowing I played such an important part in their dental journey.
We asked Megan if she could eat one meal for the rest of her life what would it be?
Megan said: Her mums Sunday dinner with pigs in blanket and Yorkshire puddings YUM!
Charisma Clinic Dental Team Review from Google My Business
Charisma Clinic Reviewed by gail clarke on "This dental practice is by far the best I have ever been to. The team are so warming and welcoming and make you feel right at home. The quality of service you receive from all of the staff - the owner (Talal), the manager (Khadija) the dentists (I had Rohan), nurses, and receptionist (Irene), is up there with some of the best service I have ever received.

The practice is also very modern and updated and you can see a lot of money and effort has gone into it. I've recommended this practice to all of my friends and family.

If you are looking for a new practice, then look no further!!!"
Rating: 5