Composite Bonding in Stockport
An ideal solution for broken, chipped or damaged teeth.
If you'd like long lasting, affordable and excellent quality composite bonding in Stockport, our expert cosmetic bonding team can help.
Our highly skilled team of cosmetic dentists is led by our hugely experienced principal dentist, Dr. Talal Khalil (GDC No: 205679), who has helped transform the smiles for hundreds of patients from all parts of Manchester, Stockport and Cheshire.
Composite Bonding (also known as cosmetic bonding) is when a tooth-coloured material (composite) is bonded to the enamel of your tooth to repair chips, improve the colour and shape of your teeth or even to close small spaces between teeth. Composite bonding is a minimally invasive treatment that can usually be applied in one visit without any injections or the need to remove any teeth.
What can composite bonding be used for?
Composite bonding has a wide range of different uses and is widely regarded as the most conservative and straightforward way to improve the appearance of your teeth. At Charisma Clinic we can use composite bonding to help patients:
Increase the length of short teeth
Repair chipped teeth
Improve the appearance of discoloured teeth
Close spaces between teeth
Change the shape of teeth
Examples of Composite Bonding
Composite bonding before & after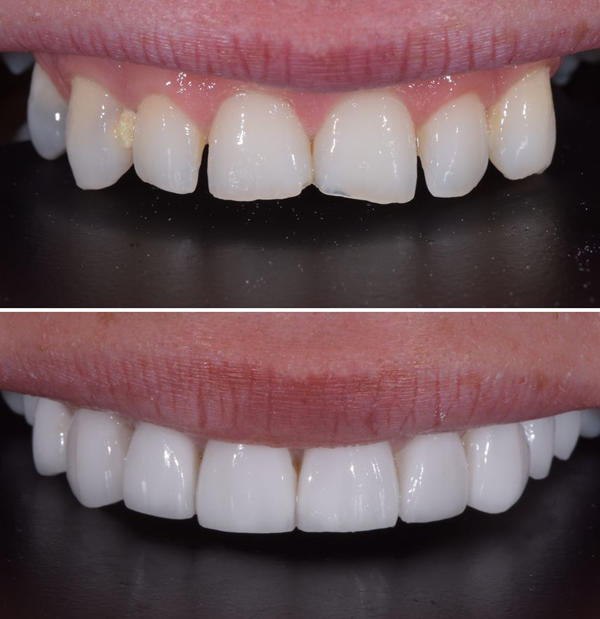 Composite bonding before & after
Cosmetic Dentistry