Invisalign SmileView
Try on a new smile in 60 secs - click here to start your SmileView experience.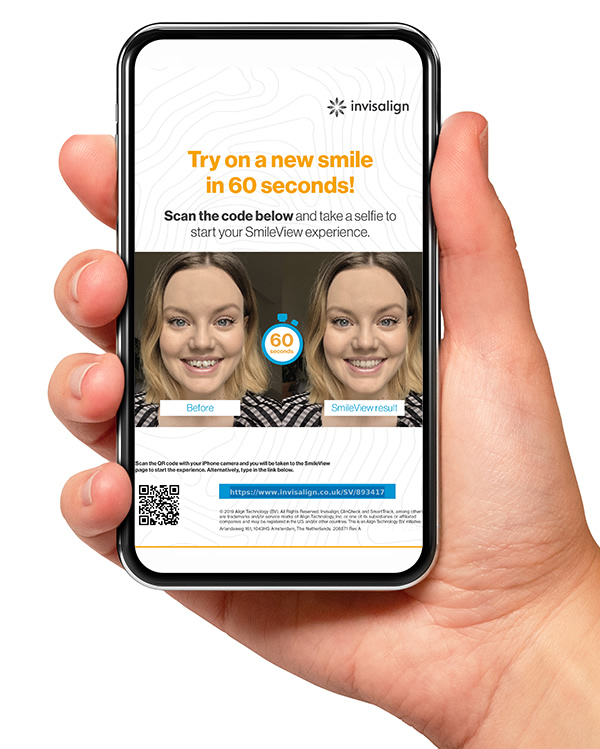 Our expert Invisalign teeth straightening team includes our highly experienced principal dentist, Dr. Talal Khalil (GDC No: 205679), who has helped improve the smiles for hundreds of patients from all parts of Manchester, Stockport and Cheshire.
All our dentists and hygienists are registered with the General Dental Council (GDC) and our practice is regulated and regularly monitored by the Care Quality Commission (CQC) so you can rest assured you're in safe hands with our orthodontic team.
Straighten your teeth with removable and invisible braces
Feeling self-conscious about your smile and worried that braces will only add to your embarrassment?
Forget about fixed braces, wires and uncomfortable aligners and try Invisalign, which straightens teeth with discreet removable aligners, custom-made for the perfect fit. Developed to reduce the impact on patients' day-to-day lives, Invisalign gently repositions your teeth without anyone knowing, fixing overbites, underbites, crooked teeth and gap teeth among other dental concerns, in a safe and efficient manner.
Because they're also removable, patients can eat and drink whatever they want, whenever they want to, instead of having to adhere to a strict diet that can cause more frustration than good.
Enhancing and transforming your smile, Invisalign can give you the teeth you have always wanted, allowing you to smile with confidence and self-assurance.
Am I suitable for Invisalign aligners?
Approximately 90% of orthodontic cases can be successfully treated with Invisalign, so it's very likely that you are suitable. Treatable cases include:
Crowded Teeth: Teeth that bunch up, overlap and twist, because you don't have enough room in your mouth to fit all of your teeth in. This can make it hard to brush your teeth and floss them, allowing plaque, tartar and bacteria to build up, damaging your oral health.
Overbite: This is where your upper teeth overlap with your lower front teeth, wearing down your jaw. It's normal to have a little overbite, but if you've been told you have a deep bite, then it's worth correcting.
Underbite: If you close your mouth and your lower front teeth are in front of your upper teeth, then you have an underbite. This can make it difficult to chew properly or speak clearly, and potentially cause your teeth to wear down more quickly.
Crossbite: If you close your mouth and some of your upper teeth rest inside your lower teeth, then you have a crossbite. Unfortunately, this can cause wear and tear of your teeth ('chipping') and make your gums recede. This can lead to discomfort, painful gum issues, and even bone loss.
Gap Teeth: Having extra space between two or more of your teeth can create small pockets between your teeth and gums where food can get stuck and plaque can build up. This can leave your gums tender, sore and even lead to gum disease.
Open Bite: This is where you close your mouth and your upper and lower teeth don't touch, making it hard to chew or difficult to bite into food such as apples and carrots.
Invisalign can also be used to help children develop their jaws and arches, as well as fix any pre-existing conditions that may, overtime, get worse.
Request a call back