Meet our dental hygiene expert Dr. Talal Khalil, PhD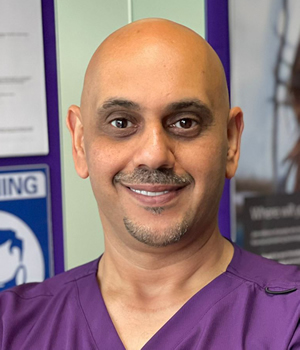 Hi, let me take this opportunity to introduce myself and provide you with some information about my professional background. My name is Dr. Talal Khalil (GDC No: 205679) and I graduated in General dentistry from Safarik University in Slovakia in 2002.
I started my career as a dentist working at the Louis Pasteur Faculty Hospital where I gained extensive experience in restorative and aesthetic dentistry. My interest in oral surgery and associated academic work grew whilst working with eminent dentists and oral surgeons at the faculty teaching hospital.
I continue to keep my knowledge and skills up to date by working alongside highly experienced and skilful professionals and attending courses and workshops to familiarise myself with latest procedures and techniques in dentistry and aesthetic procedures.
It is my goal and vision to provide you with healthy teeth, gums and a stunning, confident smile.
Dental hygienist treatment prices
We offer the following teeth cleaning treatments, all at very competitive prices compared to other private hygienists near us in Stockport:
For all our latest prices and special offers please see our fees page.
Why you should you visit a dental hygienist
It is important to look after your teeth as well as your gums. Gum disease can be a major threat to the look and health of your teeth and is the number one reason for tooth loss.
If left untreated, gum disease can therefore turn into a more painful and considerably more expensive issue to resolve.
For this reason, it is recommended that you visit the hygienist at least every 6 months for a scale and polish and for general advice on how to practice good oral hygiene.
The recommended frequency will be determined by the dentist when they assess the current state of your oral health and determine the risk of more serious conditions.
For more serious cases this could be every few weeks until the issue improves, through to annually if the teeth and gums are in excellent health.
How can help improve your oral health
As well as performing the required hygiene treatments to help improve your smile, gum and teeth health, we also offer the following educational oral hygiene advice:
Dietary guidance

Teaching how and when to effectively brush your teeth

Recommend interdental cleaning techniques

Apply fluoride gels and sealants (if required)
Book your consultation today
Our dentist will thoroughly check the health of your teeth and gums and remove any build up of deposits and plaque leaving you with a clean and fresh smile.
At Charisma Clinic we will also offer you dietary advise and show you how to keep your teeth and gums healthy everyday. Our aim is to help you keep your teeth for life.
Call our friendly Stockport hygienist today on 0161 327 0943 or book a consultation online