Gum Disease Treatment in Stockport, Cheshire
If you need a gum disease treatment expert near you in Cheshire, our highly rated and experienced periodontal team in Stockport can help.
Gum disease (periodontal) treatments are performed at our Stockport gum clinic by our highly skilled principal dentist, Dr. Talal Khalil (GDC No: 205679).
Dr. Khalil has over 17 years extensive dentistry experience and has helped many patients from all parts of Stockport and Cheshire cure or control their periodontal disease.
Meet our gum disease expert Dr. Talal Khalil, PhD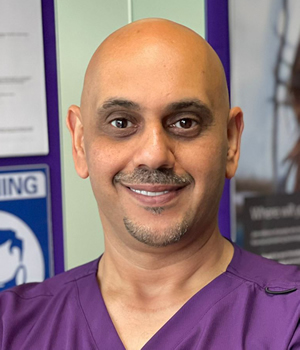 Hi, let me take this opportunity to introduce myself and provide you with some information about my professional background. My name is Talal and I graduated in General dentistry from Safarik University in Slovakia in 2002.

I started my career as a dentist working at the Louis Pasteur Faculty Hospital where I gained extensive experience in restorative and aesthetic dentistry. My interest in gum disease, oral surgery and associated academic work grew whilst working with eminent dentists and oral surgeons at the faculty teaching hospital.
Tooth loss is mainly caused by gum disease and is entirely preventable
If you detect any signs of bleeding around the gum line, with or without brushing your teeth, you should visit the Charisma Clinic immediately.
Receding gums and bad breath are also early signs of gum disease but it can be treated successfully and controlled if you practice good oral hygiene everyday.
Periodontal treatment costs
We have have ensured the prices of our periodontic treatments are extremely competitive compared to other gum disease experts in Stockport and Chesire.
Our gum disease treatment prices therefore start from £90.
What is periodontal disease?
Otherwise known as gingivitis, if your gums are left without being treated this will turn into a serious condition called periodontal disease which will eventually affect the the bone that holds your teeth.
Once this occurs it is highly likely you will lose a tooth.
Periodontics can treat the disease but it is a painful process so looking after your teeth is the best long term solution.
We offer a wide range of oral hygiene treatments and advice on our oral hygiene page.