Meet our children's dentistry expert Dr. Talal Khalil, PhD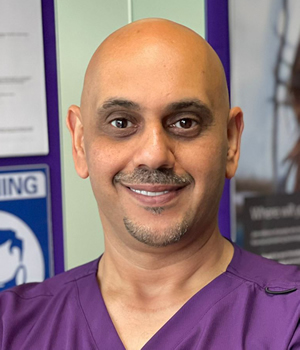 Hi, let me take this opportunity to introduce myself and provide you with some information about my professional background. My name is Dr. Talal Khalil (GDC No: 205679) and I graduated in General dentistry from Safarik University in Slovakia in 2002.
I started my career as a dentist working at the Louis Pasteur Faculty Hospital where I gained extensive experience in restorative and aesthetic dentistry. My interest in oral surgery and associated academic work grew whilst working with eminent dentists and oral surgeons at the faculty teaching hospital.
I continue to keep my knowledge and skills up to date by working alongside highly experienced and skilful professionals and attending courses and workshops to familiarise myself with latest procedures and techniques in dentistry and aesthetic procedures.
Dr Talal has extensive children's dentistry experience. Over the years he has learnt techniques, communication skills and created a relaxed and comfortable environment.
This helps to put younger children and anxious patients at ease whilst undergoing dental assessments and procedures.
It is my goal and vision to provide your children with healthy teeth, gums and a stunning, confident smile.
Competitive private family treatment prices
To help keep this treatment as affordable as possible we ensure our child treatment prices are extremely competitive when compared to other Stockport clinics.
Children's examination including flouride application (up to age of 16 if parent/guardian reg)

from £20

Older children's examination (from 16yrs)

from £35
For all our latest prices and special offers please see our fees page.
Let us look after your children's teeth and instill good dental habits
It is important for children to visit the our dental practice from a young age and develop the confidence with our dentist. It is also important for them to become familiar with the surroundings so that they feel safe within a clinical environment.
Regular visits to Charisma Clinic will enable us to detect any sign of potential problems with their teeth or gums and we will encourage them to look after their teeth as well as show them how to brush properly.
Our dedicated team have the experience to look after nervous patients and make sure they feel comfortable and at ease at all times.
Please find out more about our nervous patient programme by clicking here.
Our latest children's dentist reviews via Google Business
"My 4 yr old daughter had a cavity problem, the care and attention shown was amazing. Dr Talal and his staff are so caring and made my daughters experience and enjoyable one, she wants to go back!! Thank you all- brilliant"

"Best dentist ever!!!!!!

I was seen by Dr Talal who looked after me and my daughter. He was so informative and caring. He explained the whole procedure and made sure my daughter was comfortable too.

The treatment was done very well and the whole appointment was thorough."