Meet our nervous patient expert Dr. Talal Khalil, PhD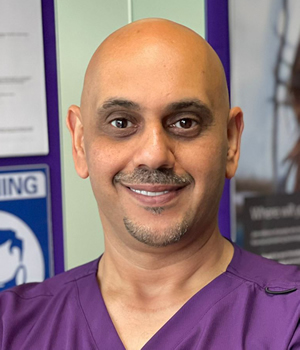 Hi, let me take this opportunity to introduce myself and provide you with some information about my professional background. My name is Dr. Talal Khalil (GDC No: 205679) and I graduated in General dentistry from Safarik University in Slovakia in 2002.
I started my career as a dentist working at the Louis Pasteur Faculty Hospital where I gained extensive experience in restorative and aesthetic dentistry. My interest in oral surgery and associated academic work grew whilst working with eminent dentists and oral surgeons at the faculty teaching hospital.
Over the years I have learnt techniques, communication skills and created a relaxed and comfortable environment. This helps to put younger children and anxious patients at ease whilst undergoing dental assessments and procedures.
How our team can help you beat your dental phobias
The team at Charisma are fully trained to look after all our patients needs and we dedicate special care for patients who maybe apprehensive about visiting a dentist.
Fear of the dentist is not uncommon and many patients have dental phobias. Our staff have the skills and experience to understand your fears and make your visit to our dental practice as stress free as possible.
We can create a programme just for your needs as it is important for us to look after your teeth as regularly as possible.
If you are experiencing toothache or would simply like to get to know us first, then please feel fee to call our dentist for a chat.
If you would like to visit us, we are easy to find and parking is available directly outside the clinic.
Our latest nervous patient dentist reviews via Google Business
"So I have a massive phobia of dentists but plucked up the courage to go privately to a very posh expensive dentist in Marple (no names) Where I was made to feel about two inches tall about the state of my teeth, including when the hygienists were doing a deep clean and whispered to each other, "it smells". Imagine the humiliation....

So, having paid a LOT of money to go to this place where their dentistry is okay but their people skills are beyond belief, I did not go back for years. Then my teeth got worse, had loads of abscesses and much, much pain until one day I googled Charisma, read the reviews, and thought, maybe.....

And having plucked up the courage, I went. And so, so glad I did. Dr Talal and all his lovely staff have been AMAZING. No judgement, incredibly kind, funny and understanding. And with MINIMUM pain and superb dental treatment.

I am the greatest wuss of all time but if anyone out there is in dental misery, PLEASE go there. You will never regret it!"

"For someone with a phobia of dentists Dr Talal makes you feel at ease and comfortable throughout Any procedures that you need. Would definitely recommend."

"I had a fantastic experience at Charisma Clinic. I will never go to a different dental practice ever again. I cannot thank Dr Talal and his team enough for all my treatments. They were very friendly and supportive. For my first appointment I was quite nervous and both Dr Talal and nurse Sam made me feel so comfortable and calm and addressed all my needs, Sam held my hand thoughtout my treatment and making sure I was okay.
They explained each step they were going to take and explained why, which I think is very important for a patient to know. They made sure that I was happy with the action plan. The end outcome has completely changed my life, I am more confident about my smile, which I was always self- conscious of for as long as I can remember.
This is the first time I have been so confident smiling. I cannot recommend this practice enough, if you want fantastic results with excellent service then this is the place to go. Dr Talal's humour made me feel right at home!! The team will most definitely look after you.
Thank you so much Dr Talal, Sam, and Khadija for helping me!"

"Visited Charisma Clinic last week - my first dentist visit in 3 years. Very nervous patient and was dreading the appointment but there was no need as everyone in the clinic were beyond friendly. Receptionist Terrie put me at ease straight away and was full of chat.
Dentist Talal was hands down the nicest dentist I've ever visited. He was extremely friendly and explained all the procedures prior to doing anything. He was very complimentary and this helped me feel more confident about my teeth. Won't be feeling as nervous at my next appointment in 3 months time.
Thank you so much to everyone at Charisma Clinic!"

General Dentistry