Meet our root canal expert Dr. Talal Khalil, PhD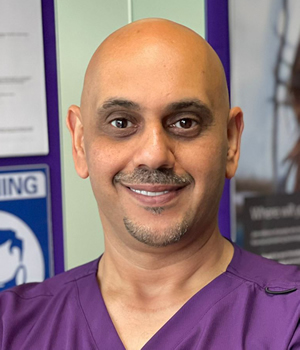 Hi, let me take this opportunity to introduce myself and provide you with some information about my professional background. My name is Dr. Talal Khalil (GDC No: 205679) and I graduated in General dentistry from Safarik University in Slovakia in 2002.
I started my career as a dentist working at the Louis Pasteur Faculty Hospital where I gained extensive experience in restorative and aesthetic dentistry. My interest in oral surgery and associated academic work grew whilst working with eminent dentists and oral surgeons at the faculty teaching hospital.
I continue to keep my knowledge and skills up to date by working alongside highly experienced and skilful professionals and attending courses and workshops to familiarise myself with latest procedures and techniques in dentistry and aesthetic procedures.
Dr Talal has extensive root canal treatment experience. Over the years he has learnt techniques and communication skills to help create a relaxed and comfortable environment.
Competitive root canal treatment prices
To help keep this treatment as affordable as possible, we ensure our root canal treatment prices are extremely competitive when compared to other Stockport root canal clinics.
| Treatment | Price |
| --- | --- |
| Consultation with specialist inc x-rays and treatment option | from £180 |
| Single rooted teeth | from £450 |
We can save a severely decayed or infected tooth
Root canal treatment is carried out when the pulp inside the tooth becomes inflamed or damaged due to bacteria. In most cases it causes severe pain but sometimes there is no sign of pain or swelling.
If the tooth is left untreated then the infection can form an abscess on the tissue around the supporting bone.
The endodontic treatment
The endodontic procedure involves removing bacteria from inside the tooth and the root canals. Once they have been cleaned the root canals are sealed and the tooth is then repaired with a filling or a crown.
Before treatment commences, the patient will be anaesthetised so that the procedure is painless.
After treatment the tooth may be sensitive but this is a highly successful dental treatment and only a small percentage of patients may in the UK experience a mild flare up around the tooth.
Our dedicated team have the experience to look after nervous patients and make sure they feel comfortable and at ease at all times.
Please find out more about our nervous patient programme by clicking here.