Dental implant cost in Manchester, UK
Looking for cheap dental implants in the UK or near you in Manchester? We offer some of the best quality yet affordable implants from £3,000 including 0% Credit, free 5 year warranty and 12 months aftercare.
Our research shows this is one of the cheapest top quality implant prices you will find in the UK.
To help keep this treatment as affordable as possible, we have ensured our prices are especially competitive when compared to other dentists in Stockport, Manchester and Cheshire.
| Implant treatment | Price |
| --- | --- |
| Consultation with specialist inc exam, small x-rays and discuss treatment options | £180 |
| Implants | £2,400 (Limited time discounted from £3,000) |
| Bone graft | £750 |
| Upper implant retained denture | £9,000 |
| Lower implant retained denture (2 x implants) | £7,000 |
| Lower implant retained denture (4 x implants) | £9,000 |
| Full arch fixed bridge (per jaw) | £11,995 |
| Full arch fixed bridge immediate loading (per jaw) | £13,995 |
| Implant retained bridge (3 teeth on 2 implants) | £4,495 |
| Teeth in a day (Same day teeth) incl. free 5 year warranty, 12 month aftercare, CT Scan,full mouth check up and sedation if required | £15,000 |
Meet our dental implant surgeon Ahmed Tahboub, BDS (GDC No. 244154)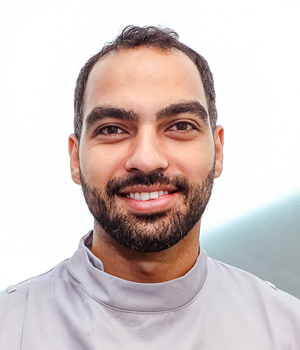 After completing my dental degree at The University of Manchester in 2013, I worked at Manchester dental hospital and the Manchester Royal Infirmary. This allowed me to further my training in complex restorative dentistry and oral-maxillofacial surgery.
During this time, I was involved in surgical and dental reconstructions for patients who suffered from trauma or oral cancer.
This is where I discovered my passion for dental implants and restorative dentistry.
I then followed to complete a postgraduate certificate in restorative dentistry and a certificate in Dental Implants. I furthered this by completing the exam for the membership of the Royal College of Surgeons (MJDF).
The attention to detail and perfectionism earns the confidence of our patients to deliver the best possible results. My ability to put you at ease and make your treatment comfortable makes me popular amongst nervous patients.
At Charisma, I offer simple and complex implant surgery from simple single implants to full mouth rehabilitation using dental implants. I also offer intravenous sedation for nervous patients.
Dental implants are a great solution to replacing missing teeth that look, feel and function like real teeth.
If you need top quality, cheap dental implants because of missing teeth there are a number of things you should consider to ensure you receive a quality treatment at affordable price.
You no longer need to compromise your smile, your confidence or adjacent teeth!
At Charisma Clinic in Stockport, we offer competitive prices often on par with cheap dental implants you can receive abroad.
Dental implants before and after case study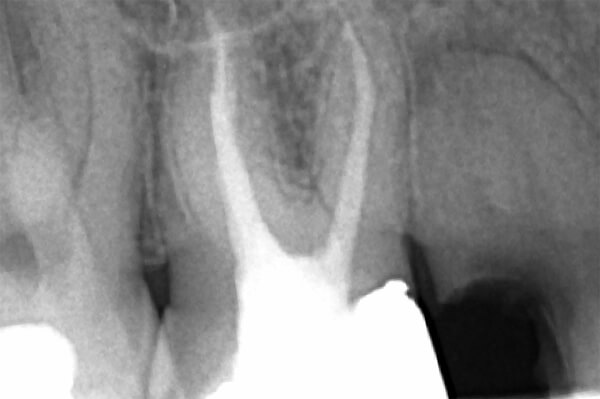 X-ray before extraction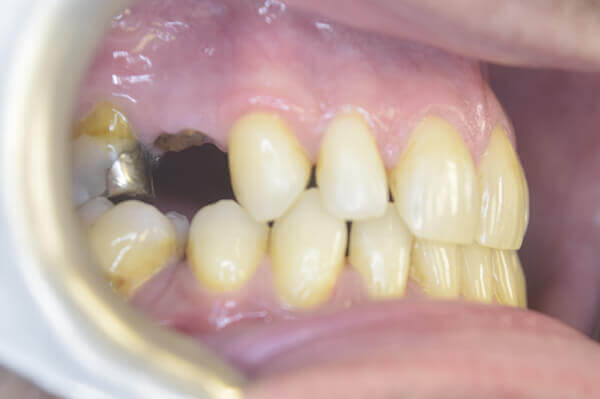 Gap after extraction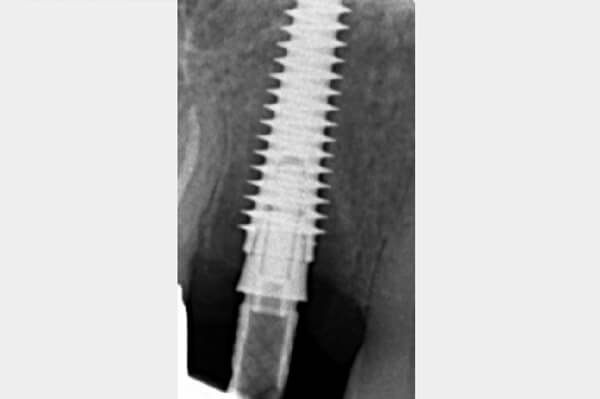 Immediate implant after extraction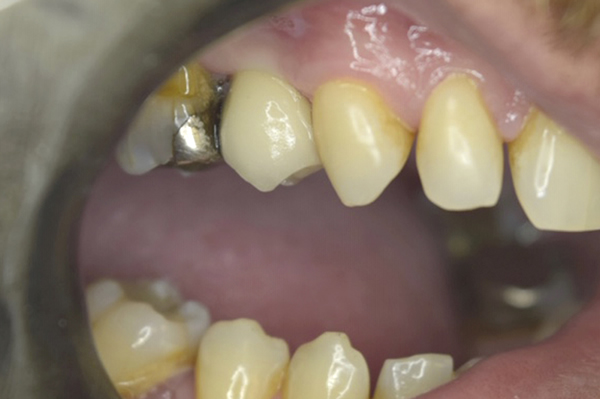 Final crown fitted
Thinking about getting cheap dental implants abroad?
The total cost of going abroad for cheap dental implants can be considerably higher than what you will find at Charisma Clinic. There are many additional costs you will need to consider if you decide to seek a dental treatment abroad. Some of these costs are:
Flights
Travel
Hotels
Insurance
Dental implants are fitted in two stages with a several week waiting period in between, which would require you to fly back for the permanent implant to be fixed.
If you ever have any medical procedure done abroad you may find that communication is not always simple and neither is arranging a follow-up or a check up. Many dentists in the UK will refuse to do any follow–up dental treatments even when patients provide medical records and documentation from abroad.
Patients looking for cheap dental implants no longer need to contemplate the inconvenience of going abroad.
Are dental implants right for me?
A dental implant treatment at Charisma Clinic is the best affordable solution to missing teeth. With regular dental hygiene, you will never have to consider replacing your dental implants.
Because they are permanent fixtures, unlike dentures, you can eat any food without suffering discomfort or pain. Dental implants will never put you in an embarrassing situation because they will never slip nor affect your speech.
You will never have to remove them or use adhesives to keep them in place. Unlike bridges, dental implants will not compromise other teeth.
Dental implants fuse with your jawbone and do not require the reduction of healthy adjacent teeth. If you are feeling self-conscious because you are missing one or more teeth, affordable dental implants are the best solution.
At Charisma Clinic in Stockport we offer a cheap, high-quality and permanent solution with dental implants that will last a lifetime.
Please note: You may be unsuitable for dental implants if you:
Are a heavy smoker.
Have had radiotherapy in your jaw area.
Have diabetes.
Have gum disease.
Dental implants are also unsuitable for children, and young people under the age of 18 because the underlying bones are still developing.
Should you be unsuitable for dental implants, we will recommend alternative treatments that may prove a better solution, or provide you with healthcare advice that will make you a better candidate for the procedure.
Request a call back