Microsclerotherapy in Stockport
Technique used to treat spider veins or thread veins of the legs
Microsclerotherapy is the technique used to treat spider veins or thread veins of the legs. It is a relatively straightforward procedure which involves injecting a liquid into the veins which destroys them and causes them to disappear over time.
It is suitable for use on thread veins on the legs or body, provided they are beneath the heart.
Microsclerotherapy treatment is now available at Charisma Clinic in Stockport
The latest technology used to treat spider veins or thread veins.
Just £100 per session - Call 0161 327 0943 for details.
How is Microsclerotherapy performed?
As thread veins and spider veins are minute, a tiny needle is used to inject small amounts of sclerosant, which is the liquid that destroys the veins.
Post procedure
To achieve optimum results, the treated thread and spider veins need to be continuously compressed for 14 days and nights. This is the time needed for the body to turn the dying vein into scar tissue and is best achieved by wearing compression stockings.
Patients are encouraged not to remove the stockings until 15 days post procedure. If they are removed too early, blood will return into the vein and it will clot, leaving a brown staining. This staining can fade over the following months but sometimes it can become permanent.
Results from Microsclerotherapy
As with all medical procedures, there can occasionally be complications and Microsclerotherapy might not give the results that are required.
90% success rate thread viens will improve with up to 4 treatment.
Complications
Pigmentation
Relatively common up to 15%
Less obvious than original thread veins
Tends to disappear by 12 months
Allergic reactions Extremely rare
DVT (deep vein thromposis)
Extremely rare
Skin necrosis
Rare often due to extravasation – usually small scab develops
Scar may be hypopigmented for upto 12 months
Phlebitis
Visual disturbances
Infection Rare – Treat in usual fashion with antibiotics

Charisma Clinic is rated 5 out of 5 based on 29 reviews with Google.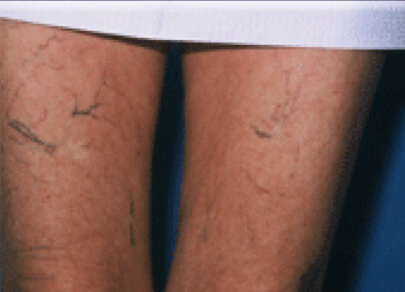 Before Microsclerotherapy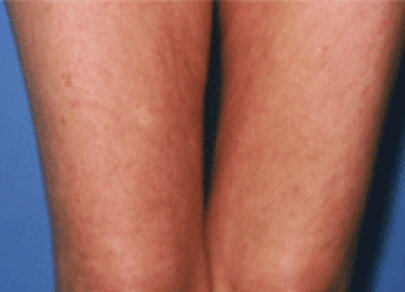 After Microsclerotherapy